:: Group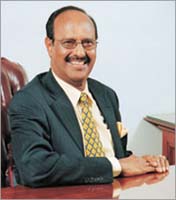 Constantly transforming challenges into opportunities, GVK enables its employees to dream collectively and achieve them by treating human capital as centre to corporate strategy.
Each GVK enterprise takes great pride in its being the destination for many talented, creative people who are motivated by a common vision and feel inspired to build on ideas that provide answers to questions like "where are we going"? and "what we wish to accomplish"?. 'Pioneers', 'Thought Leaders' and 'Trendsetters', we have prepared ourselves to harness opportunities and often helped create them.
From Power to Transportation, from Hotels to Urban Infrastructure, from Ports to Dams, we have built them all.
G V Krishna Reddy
, Chairman